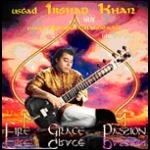 1. Raag Malkauns (Fire) Alap, Gat , Teental 13:09
2. Raag Malkauns Drut Teental 17:06
3. Raag Nand (Grace) Alap in Japtaal 14:33
4. Raag Nand Drut Teental 10:09
5. Sindhi Bhairvee (Passion) Dadra 10:30

The first two raagas begin in a serene mood then gradually elaborate into a highly energized musical expression culminating in an electrifying climax. Spontaneity in these musical performances recreates the effect of a live concert.

Historically among the finest performances recorded

Keeping in tact the legendary traditions of his forefathers, Irshad Khan is carrying forward his innovative style in maintaining the sheer authenticities of the raagas with their moods, emotions, and rasas. He has taken the style of sitar which is "gayaki" (vocal style) interwoven with "tantra" (instrumental style) to one of its most advanced heights. In this recording the masestro's ingenious and vibrant sitar performance exhibits vigor and Fire in raaga Malkauns, spontaneity represents Grace in raaga Nand (both compositions in this raaga are composed by Irshad Khan), and the mood of sensuality represents Passion in raaga Sindhi Bhairvee. Anindo Chatterjee's mastery of tabla accompaniment enhances this musical experience. Overall, this recording transports the listeners to a journey into the sublime.