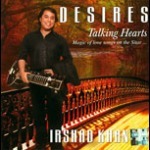 Tere In Nigahon Ne Ghayal Kiya (Fleeting Glimpses) 7:26
2. Barsan Lagi (Raining roses) 8:44
3. Nainon Mein Tere Kajra (Moments) 10:49
4. Tere Ghungroo Mora Sitar (Power Of Passion) 7:58
5. Saiyan Pardes Na Jaiyon (parting Tales) 5:11
My vision is to bring in quality and traditional classical music to the forefront. I also aim to enhance the quality of music, people are currently listening to.
When the heart of the lover pines for his beloved, there erupts from deep within him a fountain that has within its glorious confines a whirlpool of feelings and emotions.
Irshad Khan, interprets these sea of emotions musically with his tour de force "Desires- Talking Hearts" where he unleashes his prodigious musical talent by singing, composing, writing and playing the sitar simultaneously.
The album is path-breaking as it also heralds the arrival of an innovative genre of music "New Age Classic Pop". Irshad's idea here is that the Sitar, in the compositions symbolizes the feminine in the love story while the Vocals embody the male form. The charm and grace of the lover and the stirring tenderness that is a part of love-stories is brought to light by Irshad Khan and his music album that has to be experienced to be believed, for sometimes hearing is believing.